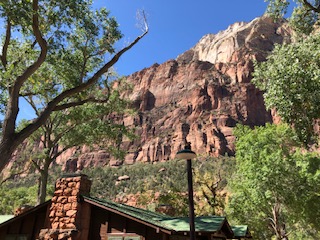 Unexpected. Almost everything at Zion is unexpected. I knew it would be beautiful. Two days at the Grand Canyon and an afternoon at Bryce Canyon had taught me to trust and expect the beauty and grandeur of these national parks. What I didn't know was what it feels like to experience both total surprise and deep recognition at the same time. At first sight, entering Zion, I felt something shift deep inside me. I had never seen anything like this. My expectations fell away as my mouth stayed open. I felt like a newborn beginning to breathe.
The thing about Zion is how tiny humans are here in relation to the stones. And, perhaps more importantly, how intimate it feels to be up close to this enormous beauty. Coming out of the darkened inclined tunnel heading deep down into the canyon floor feels like arriving on another planet. One with huge and splendid shining giant rock formations thousands of feet high that you can reach out and touch. Up close and personal with the biggest objects I have ever seen. Except they are not objects. These are living stones. As our tram driver said, the whole canyon is alive. Ever-changing. The stone, the light, the water. There are four ecosystems here.
But what I really want to say is something about the grace of humility. In a world where we live in our intellect, where the illusion of control is embraced by true believers as a way of life, Zion shows us how the ants must feel. We live in the same world. Gazing at the red sandstone hundreds of feet above our front porch, yet only a few yards away from where I sit in this wooden rocking chair, I am bathed in a deep knowing that I am not in charge. Of anything. And that all is well, profoundly well. Here I know that I belong to this earth. That these rocks are made of the same molecules as my own bones. Like many of us, I want to make a difference in our world. I want to offer my gifts.  I want to be happy and healthy and I wish the same for my loved ones, in fact for all living beings.
Zion tells me that while my wishes are welcome here, what really matters is much deeper. What really matters is that I am related to all creation and that I am humble, in the most whole sense of the word. I can let go. I can release all I carry. The Holy One who sustains Zion also sustains me. And this is how it feels to stand here in Zion and slowly and carefully turn in a circle. To see stones and light and water, all life, all around me. It is so so so not all about me. This is a deep peace that stays alive inside me on the hardest days and the most joyful nights. It exists inside me independent of external reality. Here in Zion, this peace is externalized in God's creation. It is everything and nothing. I breathe and the canyon breathes.
There is also unexpected synchronicity in my visit here at Zion. Because this day is also the day that a whistle-blower's complaint against the President of the United States has been publicly released. It feels as though suddenly the chaos that many of us have experienced for a couple of years may be sliding into clearer focus, like the sliding tectonic plates below the earth's surface. It feels historical. I know that I will always remember that this moment in history happened when I was at Zion National Park. I was working at the YMCA Blue Ridge Assembly in Black Mountain, North Carolina in the summer of 1974 when President Richard Nixon resigned in the face of threatened impeachment. I still remember that day and where I was, what those Blue Ridge mountains looked like that day. I believe that I will remember this day in the context of the unmistakable and unexpected grandeur of Zion. So much of life is bigger than our own will and agency.  Yet everything is connected, and we are called and invited to do what we can do.
And so, life is not just about the news. And it also is about the news. The news, like my own thoughts, is everything and nothing in Zion. What I notice here most is a strong sense of the eternal. The power of creation alive here where I can touch the stones that soar high above me. The peace of sunlight dancing in the cottonwood leaves. The felt sense of right relationship and belonging to life itself and to the Holy. I knew Zion would be beautiful. What I found here was eternity itself. And the invitation to lay down fear, lay down anger, lay down pride, if only for a moment. To rest in all that is. To know home in this light, in this breeze, in this canyon. To welcome humility as grace and the Holy as all.  And finally, to trust that who we are and what we do can center in our truth, that we, like the sandstone cliffs of Zion, can bear witness to what we know in our bones. We can be who we are, this day and all days.
May we live this day, and all days, with an awareness of the power of creation. May we learn to trust in the Holy and in life itself, like the towering red sandstones and the small gray fawns living together here in Zion. May we flow like the water in the Virgin River, open to the unexpected and eternal in the molecules and atoms that we share with all this earth.
*************************************************************************************
PS It has been a long time since I posted here.  I have been writing and traveling and learning. More to come! Thank you for reading!